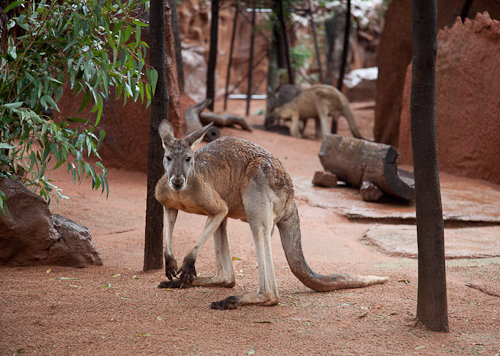 What's the first thing that comes to mind when you think of Australia? Crocs? Shrimps on the barbie? Koalas? Whatever you think of, kangaroos can't be far down the list.
I recently took a vacation down under and the bizarre food eater in me had a craving for unique food experiences. In Australia, weird food means bush meat like croc and emu, but the most common and widely available bizarre food there is kangaroo.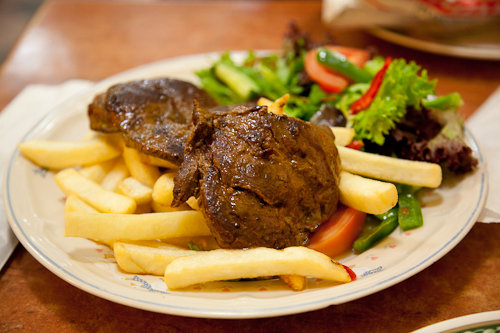 Kangaroo Rump steak at Oz Turk Pizza's & Kebabs
The first question about eating kangaroo meat that everyone asks is, "what does it taste like?" I would say that it's a cross between venison and buffalo meat. Not quite as dry as deer but still leaner than buffalo. It has a wonderful gamey taste (because roos live in the wild and feed on grass and shrubs) that adds a lot of flavor without being overpowering.
Down in Oz, I ate kangaroo on several occasions. By far my best meal was a tender, juicy, marbled kangaroo rump steak cooked medium rare. It was prepared by a man who looked like he had been cooking the dish for decades, so the concerns of game meat becoming too dry were not a factor.
Where can you buy kangaroo? Even if you can't make it to Australia in person, you can now order kangaroo jerky on Amazon.com.
From what I'm told, kangaroos are much like deer here in America. They are a native species that lives in the wild and they overlap with human populations on the fringes of civilization. Anyone with a license can hunt them and allegedly they will overpopulate if not hunted (source – MSNBC). Oh yea, they are cute like deer. Understandably there is controversy over hunting them from animal rights groups.
While not as ubiquitous as beef or pork, kangaroo meat is readily available in supermarkets around Australia and tends to be cheaper than the meat of farm raised animals. In the supermarket I visited, I saw kangaroo steaks, pre-marinated skewers, and kanga bangas (sausage).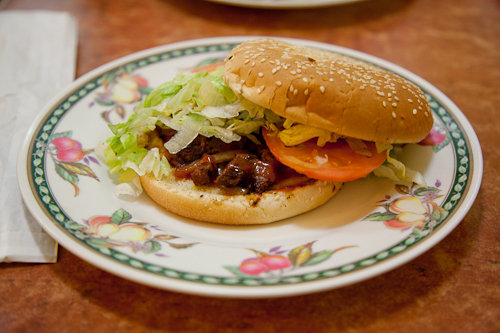 Kangaroo Burger at Oz Turk Pizza's & Kebabs
Surprisingly, kangaroo wasn't very easy to find in restaurants – we only found 3-4 in Sydney that serve it. Luckily, one of them was a random neighborhood pizza and kebab place just around the corner from where we stayed. We ordered EVERY kangaroo item on their menu, including a kangaroo burger and a kangaroo Turkish kebab (what we like to call gyros).
I highly recommend the kangaroo burger because it's pretty delicious and inexpensive, but I would avoid kangaroo kebabs – something about the sweet tahini sauce they use in Australia with kangaroo rubs me the wrong way.
One of the most interesting ways I had kangaroo in Australia was on a pizza at the popular and touristy Australian Hotel (which happens to have an amazing rooftop view overlooking the Sydney Opera house ). The Australian is the place to go if you want kangaroo, emu, and crocodile in a single meal – they have a pizza for each of them.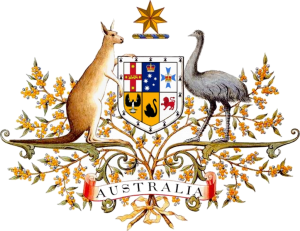 Australian Coat of Arms – Courtesy of Wikipedia Commons"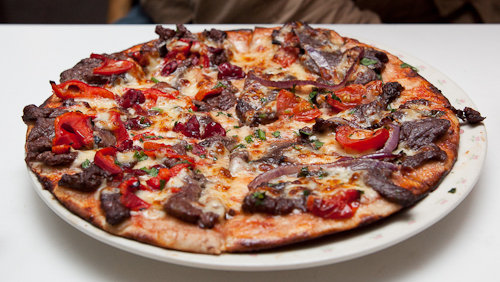 A pizza at the Australian Hotel that has kangaroo and red pepper on the left half, and emu, tomato, and basil on the right half
At the Australian, my travel buddies and I decided to order a custom half kangaroo, half emu pizza in honor of the Australian Coat of arms, which depicts a kangaroo and an emu standing side by side. This pizza was amazing! The highlight was actually the emu, which has a very distinct, surprisingly non chicken like taste that is gamier than the kangaroo. In fact, emu doesn't taste like chicken at all, it is more like a juicy, lean, yet tender beef jerky.
Just in case you were wondering, crocodile tastes exactly like chicken in Australia (for reasons explained in the image below) but the Thai basil with Crocodile pizza and coconut milk at the Australian Hotel was delicious anyways. All of them go great with a James Squire Golden Ale (my favorite Aussie beer).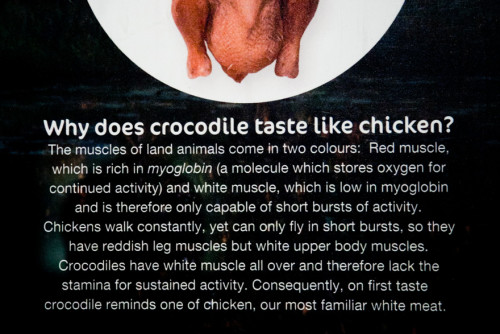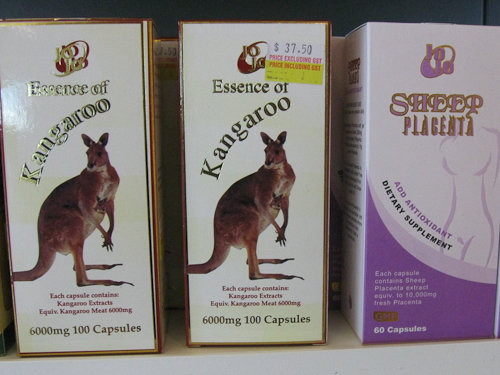 Kangaroo Vitamins
Back to Kangaroos, the fun down under doesn't stop at food. Around Sydney people were sporting kangaroo leather hats and I found souvenir stores selling kangaroo jerky.
Even stranger, while perusing an airport gift shop I came across "Essence of Kangaroo" kangaroo meat capsules vitamins. I'm not sure that I'm interested in taking kangaroo supplements with my multivitamins and at $30+ US per bottle, I passed on this offering.
In closing, what do all of my kangaroo observations lead me to believe?
Stereotypical as it may be, Australians are genuinely fascinated by Kangaroos. They eat and wear kangaroo products, they use kangaroos their as mascots (see Qantas Airlines), and even the Australian National Soccer Team is called the "Socceroos".
As far as incorporating kangaroos into their diets goes, while the meat is easy to obtain, I don't think many Aussies eat kangaroo on a daily basis. They probably eat kangaroo as often as Americans eat venison or other game meat.
In any case, I highly recommend eating some Kangaroo! If it was readily available in Austin, I would be eating kangaroo regularly as a leaner and in many ways better tasting alternative to beef or pork.
Happy tasting!
Peter